Homeowner Danger Zones
Homeowner Danger Zones
Homeownership has many perks and may responsibilities. Owning your home means you are solely responsible. Keeping yourself, your family and your guests safe as well as protecting your investment is of the utmost importance.
There are potential dangers in and around your home. It is your responsibility to be diligent and eliminating and reducing those dangers. Some of the most common dangers for a homeowner has to do with common household appliances and items in and around your home.
How many of the following common items are a potential threat for your home?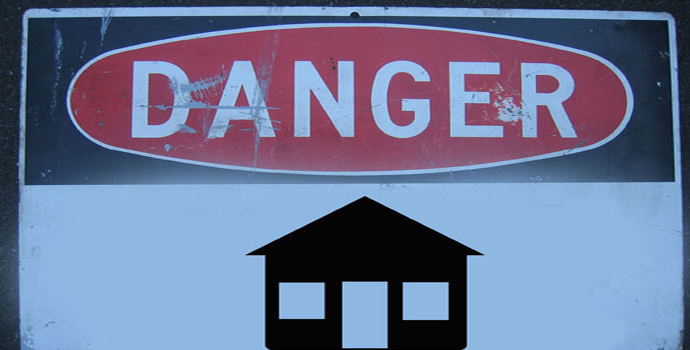 Stoves, Ovens and Cooktops
40% of all home fires start in the kitchen according to a study completed by Red Cross. A high percentage of these kitchen fires are a direct result of the cooktop or stovetop being unattended or left on. This percentage of fires is exaggerated when dealing with gas stoves and cooktops. Be sure to turn off all burners completing before leaving the kitchen. Keeping any and all combustibles away from the cooking area is another great way to eliminate these dangers.
Clothes Dryer
Your clothes dryer is a sneaky appliance that has potential for disaster to your home. Your lint trap filter is a common item and everyone who has ever operated a dryer knows to swipe the lint form the filter screen between uses. However, many people are not aware that lint gets past the filter screen and into the exhaust tube and into the dryer where the heating element is located. This can ignite the lint like tinder and start a potential deadly fire.
Regular dryer maintenance and cleaning is essential to keep your family and property safe from an accidental fire.
Washing Machines
Your washing machine is a great and convenient asset to your life. Just like any appliance or machine, it requires routine maintenance and upkeep to ensure it operates efficiently and safely. It is common for the hoses to become dry and brittle. When this happens, the risk of water leaking and damaging your home increases.
Pipes
For those homes with indoor plumbing, your pipes can become a hazard under certain conditions. Homes that are subject to freezing weather conditions must take extra precaution during the winter months. Cracked water pipes have been wreaking havoc on homeowners since indoor plumbing was invented. A small 1/8 inch crack in a plumbing pipe can expel 250 gallons of water in a day.
Be sure to keep your pipes properly insulated both inside of our home and outside of your home as well. In some instances, it is advised to keep your pipes open allowing a trickle of water to continuously run to avoid the freezing of trapped water in the pipes, thus leading to swelling and breaking.
Electrical Wiring
Homes wired with aluminum wiring instead of copper wiring are more prone to electrical fires. Faulty connections, out dated outlets and overloading a circuit are potential disasters as well. If you notice flickering lights, frequent blown fuses or circuit breakers then you should consult with a licensed professional electrician. Also, if you experience a tingling sensation when turing on or off light switches or appliances, you should call a licensed professional.
Gutters
Here in Brevard County Florida, we get lots and lots of rain between the months of June and November. A clean and well maintained gutter system around the eaves of your home will route that rain water away from your homes foundation and properly disperse it into your yard and or garden. Keeping the gutters free and clear of debris will prevent water from backing up into the soffit of your home and creating water damage. If you have overhangin trees around your house, be sure your gutters are free and clear of debris.
Fireplaces
Even though we live here on Florida's Space Coast, there are many homes with wood burning fireplaces. Keeping your fireplace and chimney clean and clear of debris and creosote will reduce the potential of a chimney fire or allowing sparks and embers to enter the living space and catch rugs or wood floors on fire. Keep the screen or glass doors closed when using your fireplace and remember to open the chimney flue before igniting a fire to prevent smoke damage to the inside of your home.
Smoke Detectors
The smoke detectors in your home can be the most annoying and aggravating device in your home. Especially when they decide to notify you of a "low battery" warning at 3:00am in the morning.
Do not eliminate this aggravation by removing the fire detector or removing the battery to stop the "chirping". Simply, replace the battery and allow this life and property saving device to properly do it job.
Roofs
Your roof is often overlooked for it's importance and functionality. While we do not need to worry too much about snow and ice build up on our roofs here in Central Florida, we do want to ensure that the sun does not damage your roof beyond it's functionality.
Along that line, be sure to keep proper insulation in your attic space to keep the heat and power bills down.
Roofs are known for providing excellent space for snow and ice buildup. A roof that is too warm will cause snow to melt. When this happens, runoff freezes in gutters, which forms into ice, creating a dam that forces water below the shingles. To help prevent issues, make sure your roof is properly insulated by adding attic insulation and vents, which will help keep the roof cool and prevent snow melt.